BUY FULL VERSION OR UPGRADE
Worlds best Scattering Companion: Forest Pack PRO
There is no better companion for your renderer!
Forest Pack is a plugin for 3ds Max® that provides a complete solution for creating vast areas of objects, from trees and plants to buildings, crowds, aggregates, ground-cover, rocks and more. Countless studios rely on Forest Pack's production-tested algorithms and native shaders to render scenes with virtually unlimited numbers of objects and polygons, all without putting a strain on computer resources. Simulate natural distribution patterns and get the most out of your assets using advanced mapping and randomisation tools, or fine-tune your scatters with granular control over every aspect of the plugin. Even better; finalRender fully supports highly optimized scattering on CPU and GPU. Most of the advanced Forest Pack Pro shaders pose no issue at all, and thanks to our trueHybrid™ approach to rendering you get the full power out of your hardware - every time.
Forest Pack 2020
13 incredible new distribution maps to create more varied scatters
With three new modes of distribution: Path, Reference or Particle Flow. You can now do Multiple Paths on spline list as well as place objects on reference markers, or use PFlow as a distribution source.

Animators will be pleased to know that Forest Pack's PFlow integration supports animated particles and it's possible to use their scale and orientation information to affect the size and rotation of scattered items. Look out for the New Libraries as well! | scatter unlimited source objects |use unlimited areas |planar surfaces| | non-planar surfaces advanced features |randomly tint by object or element | | collapsible to editable mesh |over 290 presets |add your own preset libraries| | includes Forest Pack Tools to convert to native instances |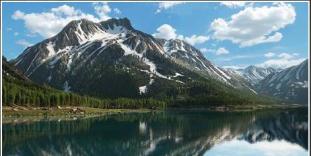 SUPPORTED AREAS
Forest Pack fits into existing pipelines with the widest support of any plugin for defining a scatter area, including splines, surfaces, PFlow objects, markers, objects, and paint areas. You can even even exclude objects using another Forest Pack area to create sophisticated and layered interdependencies.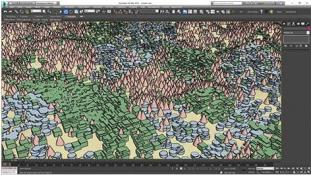 DISTRIBUTION PATTERNS
Built-in patterns; Maps; Clusters; Match Color on Bitmap. Respectively: FP uses black, white maps to create distribution patterns; procedural maps or images to create any distribution; simulate growth patterns found in nature with Forest Pack's unique Cluster mode. Or create your own cluster patterns by matching plants to colour found in a bitmap.
ITEM EDITOR MODE
Use Custom Edit mode to add, place or edit items manually. Fine tune an existing scatter for the perfect render, or start from scratch by placing individual objects. Position and orientate objects using markers, other objects and meshes for reference!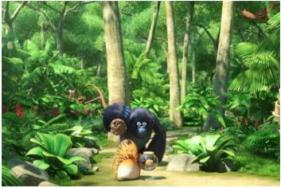 ANIMATION
Animated geometry can be used including proxies. In the default mode, the animations are all synced, but there are 3 powerful options that enable you to randomise and control playback. You can Randomise time offset of animated geometry to ensure scattered objects are not played identical and therefore more natural. Control Using Maps play back of animated objects. You have two options, either set the offset of the animation and let it play, or specify the current frame using a gray-scale map.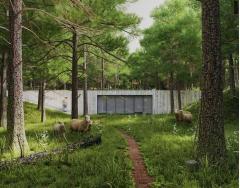 RENDER WITHOUT LIMITS
Billions of Polygons- virtually unlimited geometry. Render millions of polygons are now possible thanks to Forest Pack's advanced geometry shaders. Points-Cloud Display WYSIWYG scattering previews huge polygon counts while maintaining viewport responsiveness and avoid time spent rendering previews. Click-Convert Forest Pack objects to Max instances! For large pipelines we provide the ability to export data in an XML file.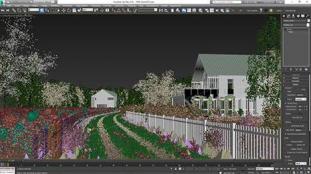 SUPPORTED GEOMETRY
1)Meshes and Proxies 2)Scatter Groups 3)Parametric Objects 4)Probabilities: FP intelligently converts any geometry to native render instances on the fly, no need to create proxies(fully supported as well). Scatter groups of objects and preserve their composition (clumps of flowers and grass), the contents of a group are handled as individual objects - individual randomisation while their position relative to one-another is retained. Parametric Objects includes GrowFX plants, Laubwerk Trees, RailClone styles, and even nested Forest Pack objects! Probability - control the exact composition of a scatter using probability values. Percentages are automatically normalised so there's no need for tricky maths.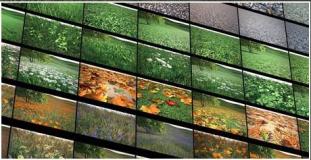 LIBRARY & PRESETS
You have access to a single license for creating and editing Forest Objects, the full library contents, and free unlimited render nodes. For the duration of your maintenance subscription you are also entitled to premium technical support and upgrades. The versions released during your maintenance subscription are yours to keep forever. If you like to stay up to date with the most recent versions of Forest Pack we recommend you should stay on the maintenance plan.
LICENSING
A Pro license gives you access to the full range of features, a comprehensive library, and free unlimited render nodes. For the duration of your maintenance subscription you are also entitled to premium technical support and upgrades.