BUY FULL VERSION OR UPGRADE
Pixologic™ ZBrush® 2020 - Starts and Finishes Expertly.
No other tool comes close to being inspirational.
ZBrush characters are like the real person or the real creature before you. ZBrush sets the industry standard for digital sculpting and painting. Its features enable you to use customizable brushes to shape, texture and paint virtual clay in a real-time environment that provides instant feedback.

When you use ZBrush you'll be empowered by the same tools employed by film studios, game developers, toy/collectible makers, jewelry designers, automotive/aviation designers, illustrators, advertisers, scientists and other artists the world over. In fact, we have even received an Academy Award for the technology that powers ZBrush. In short, ZBrush is an art tool created by artists, for artists. It allows you to create models and illustrations limited only by your imagination, at a speed that allows you to stand out in today's fast paced industry. New in ZBrush 2020:


- Expanded brushes XTractor, HistoryRecall and DecoCurve.
- No Back&Forth strokes modifier.

- Expanded MorphUV: view unwrapped UV layout in ZBrush.
- Sculpt /paint on 2D unwrap of a model, update all to 3D model. - Move Infinite Depth: apply details directly inline of brush cursor. -Texture Adjust by Color & PolyPaint
ZBrush - The Tool Leading 3D Modelers Prefer
All-in-One Digital Sculpting Solution for Those Inspired to be Masters of their Art

If you have seen the absolutely amazing 3D sculpts of Cameron Farn , famous Concept Designer & Consulting Artist at Carvel Creative (cameronfarn.com), that of Gilberto "Soren" Zaragoza (https://s0r3n.artstation.com/), senior digital sculptor for Warner Bros. Entertainment, and well-known Zhelong Xu , born in the 'pottery capital' Jing DeZhen of China and achieved international repute (https://zhelongxu.com/) - these top artists have very different art style and genres - but they all have one thing in common, they all use ZBrush® and you understand the quality work; manoeuvres and in-depth digital modeling to perfection that can be achieved.

Did you know?
-You can actually Transpose Move Tool for extrusions and non-uniform scaling.
- Do rigging with ZSpheres - Avail to the wealth of plugins in ZBrush such as load multiple objects at one go.
- Customize UI
- Use Backface Masking to prevent geometry collapsing at thinner sections - Initialize tab enables edit primitive before turning into polymesh to be sculpted. - Topology and Polygroup masking to improve workflow.

(reference: from https://www.creativebloq.com/ )
Compatibility
64-bit Windows| CPU: i5/i7/Xeon |RAM: 8GB required |HDD: 100GB HDD free scratch disk space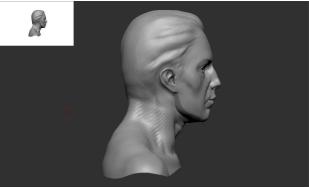 THUMBNAIL OR SILHOUETTE VIEW
Thumbnail view is a small window located at the top left of the ZBrush canvas that allows you to view a mirrored thumbnail image of the model with its selected colors and materials, or to optionally use a Silhouette Mode to view the pure forms.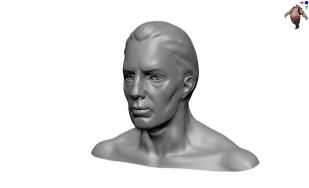 CAMVIEW
CamView object rotates along with model comprises of 40 images and altogether creates 360 degrees of rotation associated with active 3D model in XYZ space. As model rotates in ZBrush canvas, Camview will display images at the nearest angle of rotation. In effect, giving a dynamic point of reference without extra overhead of a true 3D model.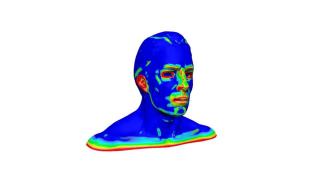 POLYPAINT FROM THICKNESS
This new feature gives you the ability to evaluate the distance between the outer and inner walls of a surface intended for 3D Printing and manufacturing. This information is essential for identifying where corrections might be necessary in the sur­face areas on the model before final output for manufacturing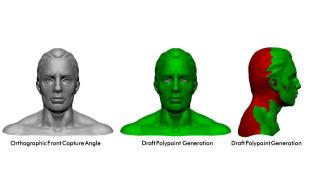 POLYPAINT FROM DRAFT
Generates color based on the draft angle captured by the cam­era. This feature utilizes the Draw Draft Analysis system together with the ZBrush cam­era. It generates the draft angles displayed from this Draw Draft Analysis as red and green PolyPaint.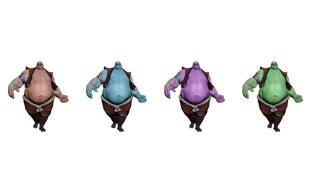 ADJUST BY COLORS
For models with PolyPaint, clicking Adjust Colors opens a preview window that pro­vides the tools to apply a total of eight mask selection channels. These allow you to isolate areas on the model for color adjustments. Alternatively, you can make global PolyPaint adjustments by use of the color adjustment sliders.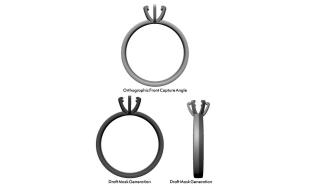 MASK BY DRAFT
MaskByDraft uses the Draw Draft Analysis features to generate a mask based on the draft angle captured by the camera. Generating masks from draft angles offers the ability to extract negative molds for prototyping, as well as providing other modeling and sculpting benefits.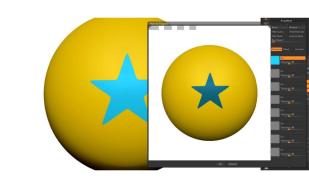 MASK BY POLYPAINT
Mask by PolyPaint offers the ability to isolate areas for color correction by use of eight Mask by Color channels. Having the ability to mask select PolyPaint give you flexibility to protect areas based on PolyPaint colors, make 3D extractions from masks, as well as many other sculpting and modeling techniques.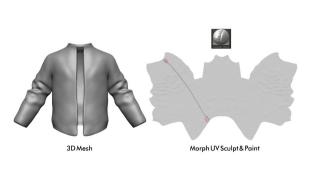 SCULPT & POLYPAINT MORPH UV
Once a 3D mesh has UVs, clicking the Morph UV button will flatten the mesh down to a 2D state based on the mapping. In this state the flattened surface can be sculpted or painted just like you would the 3D mesh. The mode supports ZAdd, ZSub, and MRGB information. You can use sculpting brushes, Surface Noise, SpotLight, and more. Nearly all brush types will function on a mesh in Morph UV state.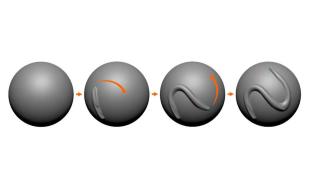 DECO CURVE BRUSHES
DecoCurve brushes simulate the effects from the classic 2.5D Deco tool, but as a true 3D sculpting & painting brush. These brushes use Stroke >> Curve Mode functionality to simulate the natural application of an alpha projection onto the surface.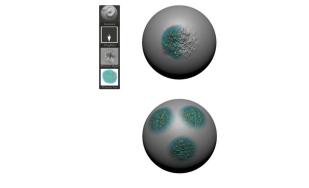 FROM BRUSH
From Brush evaluates sculpted and painted surface details, and captures those de­tails as an alpha and texture. This system offers a highly customizable way to sculpt your own details to repeat on other areas of the model, build alpha brush libraries and more.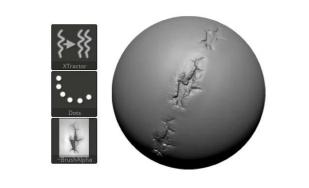 EXTRACTOR BRUSH
XTractor brushes give you the ability to capture surface details into an alpha to be re­used for further sculpting with XTractor or other brushes. Each XTractor brush type uses a different method to capture the sculpture details, as well as using the same method to reapply the captured surface details for quick and easy use. XTractor Brushes give you the ability to leverage time sculpting details you intend to reapply in other areas of the model.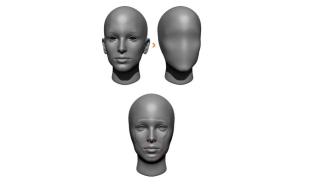 HISTORY RECALL BRUSH
The HistoryRecall brush gives you the ability to capture the depth position of a mod­el's sculpted details by use of the Undo History timeline, and then project those details onto a completely different model by use of brush strokes. HistoryRecall does not require the models to have the same topology or vertex count. It serves as a way to re-project sculpture details between models.