Bobby's Brane avant garde music videos will stick in your mind!
cebas is proud of Bobby Standridge (also known as Bobby's Brane) , just as Bobby Standridge is proud of finalToon! Bobby created an Avant Garde music video with finalToon plug-in, playing on the songtrack, INNUENDO, by Here comes the Mummies! In our second interview with this music video genius (you can view Bobby's 1st interview here), Bobby talks to cebas casually about his latest animated music video, 'Innuendo' created on one of the world's most original funky-disco-rock-&-soul acts, Here comes the Mummies.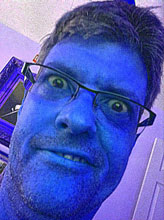 Cebas: Bobby, please give us an update about where you are at, and what you are doing now.

I find the music of the Mummies so inspiring and one Mummy video has now turned into three; Freak Flag, Secret Santa and then, Innuendo. Something about this band's music does it to me. There could be a fourth music video for this funky group, at least one other Mummies' song "Attack of the Weiner Man" spikes my imagination. It doesn't take a genius to see the possibilities there.
Cebas: Bobby, how did you develop the idea for Innuendo? The movie script is quite avant-garde.
I was polishing up my second video for the Mummy song, Secret Santa, and feeling pretty confident so I scoured the band's latest release, Cryptic, for video possibilities and the songtrack, Innuendo, kept coming back as the favourite candidate. I just liked the dynamics it offered. No preconceived notions for it. It just felt cinema-worthy. After careful listening I knew that whatever happened, it had to be filled with intrigue, lots of sneaking around, and maybe a chase or two…. And a bunch of dancing! I knew my wife would approve of that. I choreographed the dance routines by editing together a whole bunch of YouTube clips and using that as a basis for manually keyframing everything. It took forever!
Some elements quickly came into focus such as the use of exotic locales. Originally, the spy character was Caucasian, but after animating half of the video I decided to put a different spin on the spy genre. And, I didn't add the carnival setup until very late in the process. I had 3 setups initially. I realized the carnival concept would accomplish several things at once: It would allude to the Mummies' other album, Carnal Carnival, and so I add on the carnival scene and came up with 4 setups that cycled on video more intuitively, and add some levity to the proceedings.
The contents of the envelope was a mystery even to me for most of the process. I didn't come up with the obvious solution until nearly the end! It is an appetizer to watch till the end!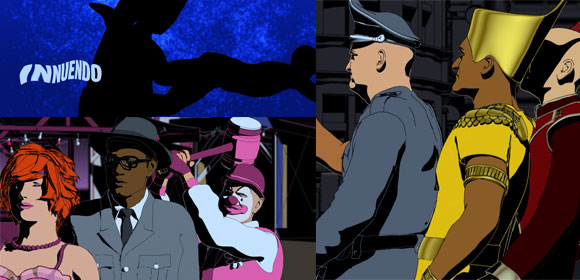 Image courtesy of Bobby Standridge
Cebas: Was the animation an easier integration with the experience you have had before, in achieving the desired effects you wanted? Did you feel finalToon in Innuendo brought your artistic creation to another level?
All three of the Mummy videos differ in appearance and feel. I was shooting for a starker film noir look for Innuendo. finalToon offered me the versatility to experiment and play around with the intricate tools until finally, I arrived at what you see in the video, something that also has a bit of a pop art feel to it. The production was almost instinctual! Working with the animation and plug-ins. I just love finalToon's versatility.
Cebas: Were there any hiccups along the way How did you resolve it?

I was fairly insecure with my character animating skills going in, but now I'm pretty much an expert now on Biped and all of its idiosyncrasies.
Cebas: what was the most fun or rewarding part of this project for you?

Finally finishing it! It's weird.
All the way up to the point when it's done, I watch it over and over and over…. I couldn''t stop looking at it. But once it's released it becomes the last thing I wanted to see. I'm done. Time to move on. At the same time, I'm enormously proud to have seen it through to the end and accomplish what I had set out to do.
Cebas: In your view, what is your wish-list for cebas software to achieve that is not currently doing for you?
I love all the tools you guys have. I regularly use just about everything you offer.
Cebas: What projects can we expect from you in the future (if you're able to tell us). What kind of effects would you like to incorporate in your future animated videos?
I have one other music video I want to complete before I attack the giant project that's simmering on my back burner….tell you about this one later. It'll be a video for an old Charlie Rich song that I love. The big one is called "The Cymbals of Love" and when it's done, it's gonna rock your world! Well, hopefully... I think I mentioned both in our last discussion. Oh well, again, one of these days…I'm sure.
Something I want to mention is that I am also extremely proud of the Sports Emmy award I received for participating in the ESPN 9/11 tribute to Welles Crowther, "The Man In The Red Bandanna." A more serious side of me, my contribution was only 30 seconds of WTC south tower animation within a 13 minute segment, and I was fortunate to be listed on the Emmy submission form as an associate producer. My wife and I later sat down to watch the broadcast live only then did we realize how lucky I was to be part of such a moving tribute. It is probably the most inspiring story I've seen related to that terrible event.


Cebas: Thank you Bobby. Artists, get a free trial of finalToon.
Visitors might want to check out Bobby's professional freelance website at http://www.bobbysbrane.com.