biasHybrid™ - Revolutionary Light Cache combining Bias and Unbiased techniques in one single light cache.
finalRender for 3ds Max is the perfect choice for 3d artists and studios alike wanting maximum image quality and photo-realism, without experiencing a brain melt when setting up complex scenes for rendering. No compromises! And we mean it. Now, with Drop 3, accelerating on both GPU AND CPU tracks - what more could you ask for in terms of hardware and software optimization! Quadruple choices for the artist in terms of handling speed and smart rendering. You have the latest RTX technology from NVIDIA with the full support of OptiX RTX Denoiser. Plus, you can still engage CPU on the Intel Open Image Denoiser. To view New Features videos, scroll.


Physically-Based (Spectral) Wavelength Simulation
Biased + Unbiased Hybrid Rendering
GPU OptiX RTX / CPU Intel Open Image Denoisers
Unlimited Network Rendering Available
Fast Iterations, Save time and cost
finalRender Drop 3
The CPU+GPU Renderer for 3ds Max Artists
finalRender is unique in many ways, try it and you will know. Latest Drop 3 - Best of both Worlds: Intel OPEN Image CPU + Nvidia OptiX RTX Denoiser.
Hybrid Hardware Rendering plus biasHybrid ™ Rendering
With finalRender Subscription Drop 2 we introduced the biggest enhancement so far. A new biased Lightcache system, a general reduction in overall memory usage and new algorithms throughout, offers the best trueHybrid™ rendering experience yet. GPU kernel memory usage has been reduced by up to 50% on newer NVIDIA cards. True unbiased CPU and GPU processing time has been sped up by up to 25%. Now, considerable fewer passes are needed to achieve a cleaner result in less time. Depending on the individual scene setup rendering speedups of 2 times or more are not unusual to see with this new release of finalRender.
Random Walk SubSurface Scattering
SubSurface Scattering has been enhanced dramatically. The new SSS now uses Random Walk methods to enhance the look and calculation quality of SubSurface Scattering. It is faster! Physically-accurate and lets you control the absorption of light based on its individual depth-based Wavelength Spectrum filtering. SSS enhances areas needing cavities and thin protrusions on the surface.
Compatibility
3ds Max 2020
19
18 - CPU:SSE4.2
GPU:CUDA 10.1 Shading Model 3.0
Subscription Drop 3 New Feature: INTEL AI-Denoiser
finalRender Subscription Drop 3 now comes with a CPU based Denoising technology. In addition to the latest NVIDIA RTX Denoising option, finalrender also offers Intel's Open Image Denoiser a CPU based AI -Denoiser. No other rendering system for 3ds Max offers you the choice of trueHybrid™.
Subscription Drop 2 New Feature: biasHybrid™
For the first time, a biased rendering method has been married with a true unbiased spectral based rendering technology! It is like achieving the task of squaring the circle. finalRender perfectly combines those contradictory rendering methods into one simple to use but powerful package.
Subscription Drop 2 New Feature: Core Speed
Drop 2 reduces GPU kernel memory usage by up to 50% on newer NVIDIA cards. True unbiased CPU and GPU processing time has been sped up by up to 25%. Considerable less passes are needed to achieve a cleaner result in less time. Active Shade is now more responsive.
Subscription Drop 2 New Feature: Random Walk SSS
The new SSS now uses Random Walk methods to enhance the look and calculation quality of sub surface scattering. It is physically accurate and lets you control the absorption of light based on its individual spectral wave length . SSS performs much better, now!
Subscription Drop 2 New Feature: Physical Material
finalRender now fully supports the standard Autodesk Physical Material which makes it perfect for scenes created with previous versions of 3ds Max or scenes created for Arnold and ART. 3ds Max' own scene converter also offers to convert materials into the standard Physical material.
Subscription Drop 1 New Feature: NVIDIA AI Denoiser
Artificial Intelligence in the form of a neuronal network drives the latest denoiser functionality of finalRender. This latest advancement in rendering technology allows to cut render times easily in half or even more be removing noise form the image. You see the final results instantly!
Subscription Drop 1 New Feature: trueHybrid Texture Baking
Texture baking trueHybrid™ technology is now fully available for texture baking (Render To Texture) in 3ds Max. Use either CPU, GPU or both at the same time to bake out your textures and lighting information. Render To texture, deeply integrated in 3ds Max, is now fully supported.
Subscription Drop 1 New Feature: Adaptive Sampling
Adaptive Sampling in fR-Drop1 introduces adaptive sampling while still keeping true to its fully unbiased rendering paradigm. Adaptive sampling in finalRender is achieved by reducing the amount of pixels it processes in any given pass.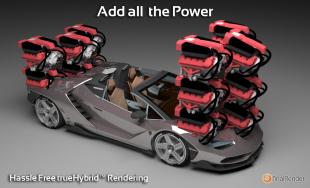 trueHybrid™
finalRender is the first renderer of its kind for 3ds Max to offer a comprehensive, true Hollywood quality rendering engine that supports GPU rendering or pure CPU, as well as both technologies at the same time. finalRender's trueHybrid™' technology allows the user to experience all the power within ONE application. No need for a separate GPU only product!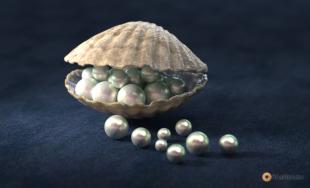 Unlimited Network Rendering
finalRender offers an optional unlimited network rendering license which is the cost of ONE single workstation license, only. What more affordable solution can you find for a top line renderer? No renderer is fast enough - ever! That's not an issue if you can tap into the power of unlimited network rendering. Peace of mind guaranteed.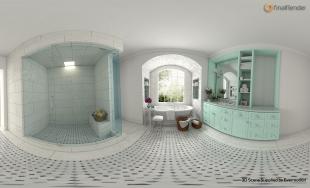 One Button VR and 360 Panorama
finalRender supports 360 Panoramic image output and various video VR formats including 3D Stereoscopic VR output. 360 Panoramas for example, can be created with one click of a button and they are ready to be published on Facebook - all this - without any extra tool. It works right out of 3ds Max.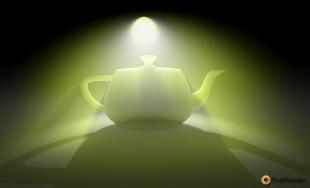 Light Types
finalRender supports all of the standard lights in 3ds Max, and it comes with its very own highly optimized and fully multi-threaded IES light. This native area light is highly configurable and is meant to replace all light types you will ever need. Setting up lights and especially changing light setups becomes as simple as clicking a button on your mouse.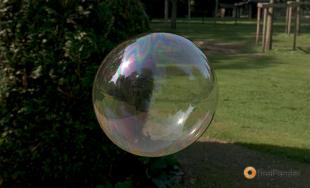 Spectral Wavelength Rendering
In the real world white light is composed of a bundle of wavelengths. To achieve a realistic light simulation, light must be considered as a wave. As one of the few renderers and the only trueHybrid renderer, it does exactly this. Every renderer still relying on a RGB light simulation model is using a non physical approach to light.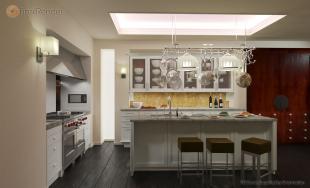 Scene Convertor
There is no argument that having a good scene convertor is important. Modern 3D assets, offered by online stores like Turbosquid or CGTrader, come in many formats. finalRender directly renders many mental ray scenes and it offers a robust scene conversion from scenes created with vray or mental ray.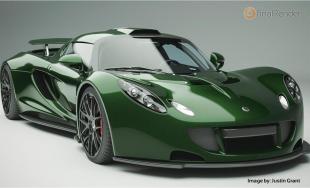 fR-CarPaint Material
finalRender comes with many dedicated materials and supports the thousands of preset Autodesk materials in addition to the mental ray materials. However, to deliver the best possible result with the utmost control finalRender offers a dedicated carpaint material. It features metallic flakes, special coating- and reflection layer.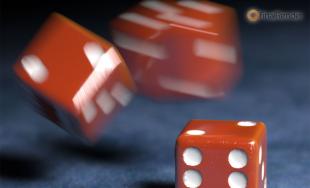 Motion Blur & Depth of Field
finalRender is all about physically accurate rendering and thanks to its unbiased rendering approach it reproduces real world camera effects like no other renderer. Time consuming rendering effects like Depth of Field or Motion Blur no longer multiply render time - all is calculated in one go! 3ds Max physical camera model is fully supported in creating such effects.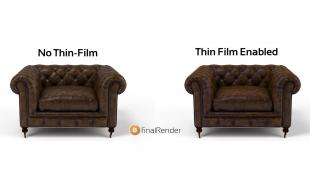 Thin Film Coating
Thin film is a real world effect driven by light interference. Different wavelengths of light create specific colored interference patterns for different film thicknesses. Such real world phenomena can only be simulated by a physically accurate spectral wavelength renderer like finalRender. The delicate intricacy of real life effects can only be captured by such effects.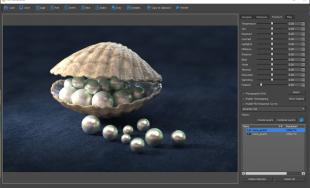 Frame Buffer on Steroids
The new finalRender frame-buffer offers real-time exposure control while rendering an image, an unlimited easy-to-access render history; to mention only a few of the advantages. The simple and responsive user-interface gives access to all of the main features and lets you choose at any time later in your creative process, which images or animations to save. Amazing flexibility.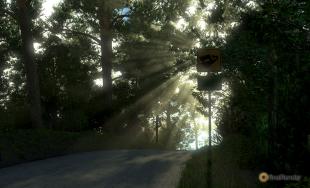 Forest Pack Pro Support
Many users expect proper instancing support from a modern renderer. What could be better to validate this request by offering full support of Forest Pack Pro instancing along with several of its materials and tricks. finalRender is one of the few GPU capable renderers to support advanced instance rendering including proper material and texture handling.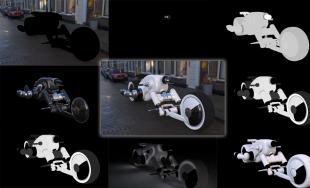 Render Elements
Render Elements in finalRender can be accessed anytime in the new frame-buffer through a simple-and-easy to understand tree view system. Render Elements are automatically grouped by Image/Frame Number; you will never ever mix up render elements anymore. Render Elements can be compared in a simple frame-by-frame manner right from within the same frame-buffer display.