Perfect Selections
Producing masks using Matte render elements or by rendering additional passes is time consuming to setup and requires a lot of memory. In contrast psd-manager has none of these disadvantages.
psd-manager lets you concentrate on the creative, more challenging tasks, and by doing so saves you a lot of time. It can create perfect anti-aliased masks for objects and materials of your choice. Since all information to do this comes from the 3ds Max G-Buffer, this is a very fast process. The created masks are stored as channels or layers in the PSD file.
For Objects, Materials, Scene Layers
Masks can be created for:
Objects (simply by picking from the scene)
Object-Ids (by assigning an Id to one or multiple objects using the Object Properties Dialog)
Material-Ids (by assigning an Id to one or multiple materials using the Material Editor)
Scene Layers (simply by picking from a list)

Selections (Click to Enlarge)
Saved as PSD Channels or Layers
Storing masks as layers, instead of channels, is a very important option, because the number of channels per PSD file is limited to 56. Having a mask/selection present as layer also allows for a great Photoshop workflow. Using the move tool, you can simply right click to select the appropriate layer under the cursor and another Ctrl + click, to load it as selection. So even with large numbers of layers you won't get into trouble finding the appropriate one. To reduce clutter all layers are organized into layer groups.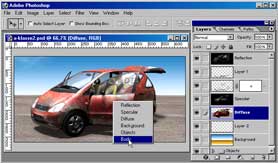 Find and Select an object (Click to see Animation)

psd-manager's perfect selections let you modify every object or material in your image after rendering. Color corrections, hue shifts, level adjustments and applying filters are just a few of the things you can do with ease. Especially in combination with render elements, the possibilities are endless. You can decide which object/material to change and furthermore which property of it (e.g. Reflections, Specularity)...and of course, everything without rerendering.
Extract Objects & Materials
Selections are usually all you need, but for special purposes, it is usefull to have an object isolated on its own layer (e.g. multimedia authoring, screen design, game design). Options allow you to choose between premultiplied and non-premultiplied alpha, whatever best fits your needs. The created layers contain only the visible parts of the rendered objects (parts hidden behind other objects are not present).