Fragments
The Fragment Node offers enhanced functions to create destruction or demolition effects. For example, this node makes it possible to break only visible edges. The addition of this feature easily allows the sculpting of the shape of debris or fragments. By pre-breaking objects and sculpting the chunks, truly advanced demolition effects can be easily achieved.
Playback Particle Exclude
thinkingParticles was the first particle system for 3ds Max to introduce particle baking or simulation recording of complete particle systems. New options are now available, like removing particles after the recording session. These options open up new work-flows like never before!
Shattering
Animating the shattering of multiple objects is one of the toughest tasks to achieve in 3d. Until now, there has been no effectual way to animate breaking objects within 3ds Max. thinkingParticles offers advanced fragmentation functions that are perfectly combined with the real-time physics engine. Along with easy to use rules, many complex tasks can be achieved in no time at all.

The core philosophy of thinkingParticles is its rule based approach, under all circumstances. Rules can be used to define the shape of the fragments and also the size and thickness. Besides the shape and size of fragments, the time and power of impact can be used to "steer" the fragmentation and shattering process.

Find below an example of rule based shattering with thinkingParticles. In this animation, you can see that a log is crashing onto the ground and its bark is shattering into pieces.
Note:
Only the parts hitting the ground become fragmented. At the maximum force of impact, the fragments are much smaller! Such a complex behavior can never be animated manually and thinkingParticles is the solution.

The object shown below is going to be fragmented; with thinkingParticles, you will not see the typical and ugly seams and cracks which indicate a "broken" smoothing group. thinkingParticles uses one of the most advanced fragmentation methods available. Check out the next example.

Notice how all the smoothing groups and shaders are still intact in the non-fragmented areas; no cracks or seams whatsoever, just a perfect render in those areas that need to stay intact.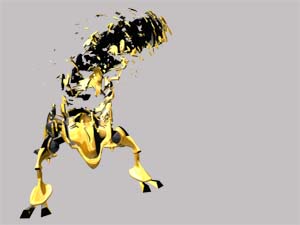 It stays clean and smooth where it should and falls into little shards, without destroying surfaces that are not part of the fragment.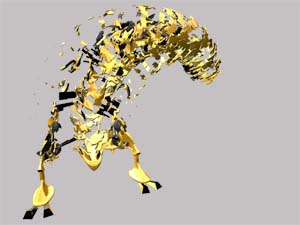 This also works for simulating the opposite effect, where broken fragments are reassembled. When fragments begin to build a new object, the assembly is done in a perfect seamless way. Currently, there is no other product that can do this, other than thinkingParticles.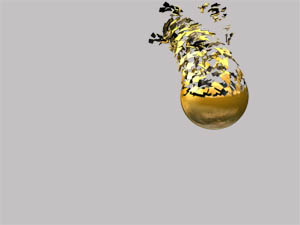 Deforming Fragmentation
Particle explosions are easy to achieve in 3ds Max. However, not all built-in particle systems offer the in-depth control and functionality that thinkingParticles provides. Even very expensive 3rd party plug-ins don't come close to what thinkingParticles is capable of doing.
This animation illustrates how thinkingParticles can initiate a particle fragmentation effect while the original object is deforming. Other particle systems like PArray or PCloud can't create this effect. Older style particle systems usually create object fragments, as soon as the function is activated, meaning the connection to the original object is lost forever. thinkingParticles solves this problem by using rule-based fragmentation operators and conditions. It's up to you to decide when and how the objects will be fragmented.